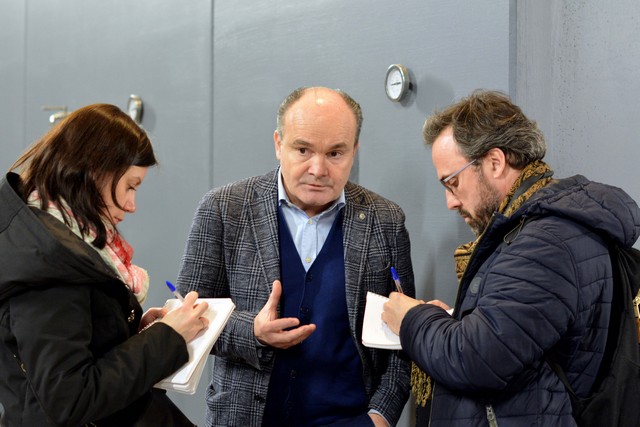 Being sommelier
It became crystal-clear while attending the école hôtelière – wine was his passion. And since that time, Olivier Poussier has never ceased to work with wine. Tasting, walking the vineyards, comparing, tasting again, discussing. He began sommellerie competitions at a very young age, developing his character and knowledge in this demanding exercise of memory, eloquence, psychology and intuition. He learned how to express emotion and passion for wine. He became the messenger, the person transmitting the world of wine from the wine-maker to the wine-drinker.
"Being a good sommelier is like for great winemakers. You need 50% technique and 50% instinct. But when you compete, you let your heart and your passion do the talking. I have always liked sommeliers who allow their heart to express itself and who love a wine for the wine, not necessarily for its technical aspects."
Emphasize proximity and discussion
Olivier cannot perceive of his work as a sommelier far from the vineyards and the winemakers. He is in French and European vineyards daily and in new world vineyards as often as possible. There is no such thing as a "petite appellation". In every appellation you find talented, perseverant, intuitive, quality winemakers. Varietal diversity and terroir diversity are his guiding principle.
"I am passionate about viticulture in Europe which has such a wealth of indigenous grape varieties so conducive to making very different wines and aromatic styles. Varietal diversity is vital to the future of wine. "
"Jacques Puisais would often say: "Wine looks like the place it comes from, and like the guy who made it", I agree with him!"
Delight and share
Olivier is passionate about wine pairings. When he selects a wine, he is already pairing it, thinking daring thoughts as he seeks subtle matches. For Olivier, wine and gastronomy are inseparable. But he also loves to play with the flavours that come with the diversity of world cuisines. Italian, Japanese, Chinese, Thai and other culinary traditions are all sources of inspiration, and he explores the infinite pairing opportunities that come with them.
"The French art of pairing food with wine is something that is totally unique. You have people like Jean-Robert Pitte, Professor at the Sorbonne, who devote great energy to ensuring that the pairing of food with wine in France is acknowledged as UNESCO World Heritage"
LE PRÉ CATELAN
With three stars in the Guide Michelin, Le Pre Catelan in the Bois de Boulogne is the gastronomic restaurant in the Lenôtre Group. I used to be involved at Le Pré Catalan, for receptions, where I worked together with Chef Frédéric Anton to propose far-reaching food and wine pairings. 
LENÔTRE - HEAD SOMMELIER -
I started there in 1990. There, I selected wine for the 17 boutiques and for receptions in France and abroad. I also supervised the sommellerie in the restaurant Le Pré Catelan in Paris.

PAVILLON LEDOYEN - SOMMELIER - 1988
I have been extremely fortunate to work with highly trained people. People who are very technical and intelligent. And people who have outstanding human relations. My thoughts turn to Alain Loiseau, the chef sommelier at Ledoyen.            OP
LE CONNAUGHT - SOMMELIER - 1986 & 1987
My chef sommelier at La Tour d'Argent once told me "You'll never be able to compete in Sommelier competitions if you don't speak English". I took off and worked for three years in England.
LE MANOIR AUX QUAT'SAISONS
Oxford
LE MANOIR AUX QUAT'SAISONS - 1985 & 1986
At Le Manoir aux Quat'Saisons, I was far from anywhere – the perfect opportunity to study wine in the evening after my work. While there, studying wine became both discipline and pleasure.
LA TOUR D'ARGENT - SOMMELIER - 1982 & 1985
I was so fortunate to start here during the four-hundredth anniversary of this amazing establishment. I served the great names of the times: Fonda, Gassman, Mastroianni, Belmondo, …  here I spent four magnificent years.