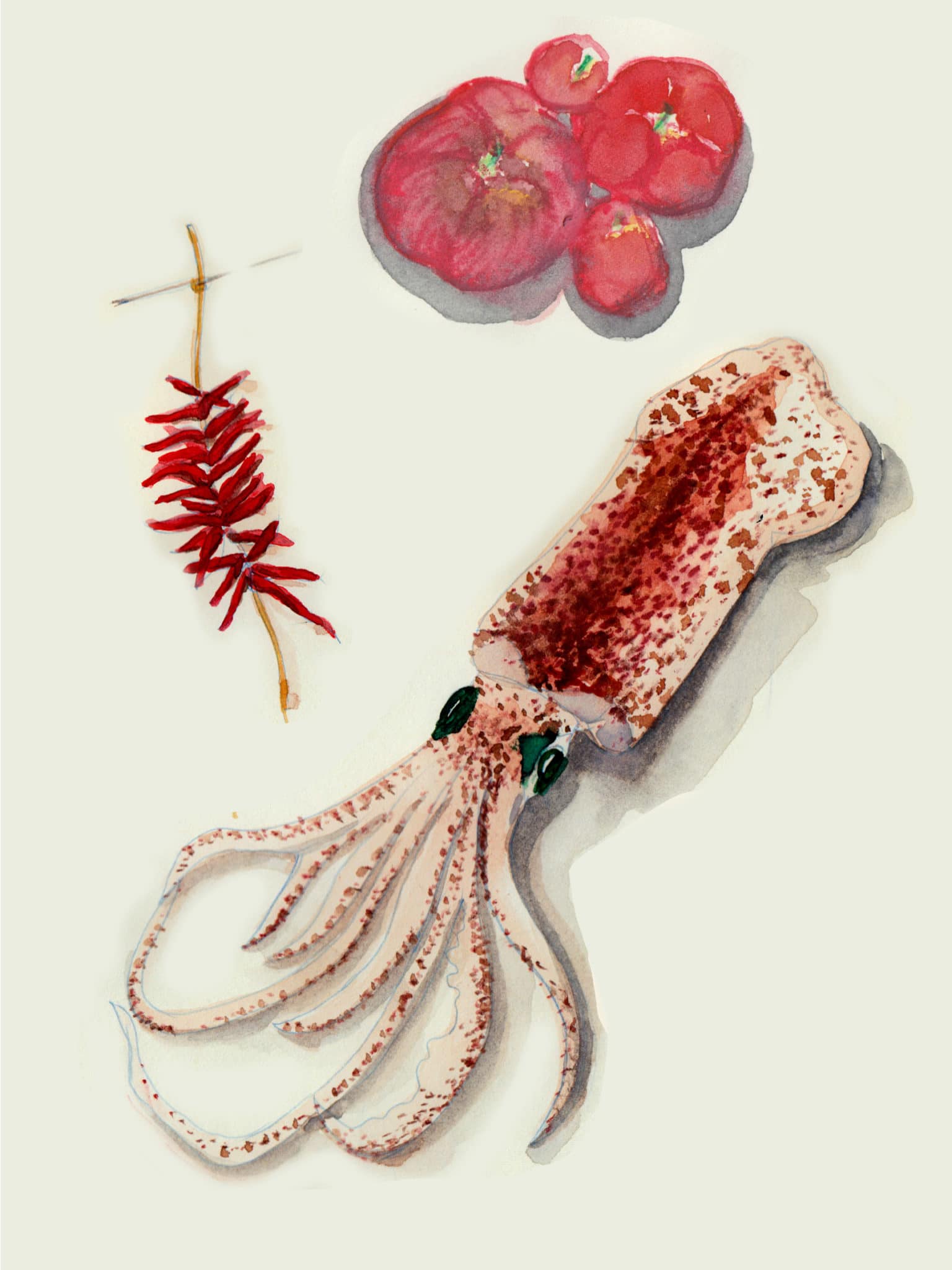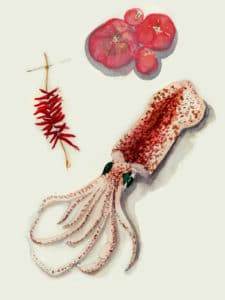 Squid is one of the traditional ingredients in classic dishes in countries like Spain, Portugal, Italy, Greece, Japan and Korea. Follow the suggestions from Olivier Poussier, meilleur sommelier du monde, for outstanding food & wine pairings.
Squid, also known as calamari, is referred to as encornet in French and chipirons in the Basque region… Size can vary and names can change depending on where you are, but the species remains the same and has 300 varieties. Squid is one of the ingredients in traditional culinary fare in countries like Spain, Portugal, Italy, Greece, Japan and Korea. Chipirons are an integral part of the culture and the cuisine in Spain and the Basque country. In Galicia, squid is often prepared with potato and paprika. Basque country traditions prepare it in many different ways, most often with tomato, Espelette peppers and Bayonne ham.
What more legitimate approach than to try and pair wines from the region with this delicious dish? And yet, there are also other wines which are excellent alternatives…
Watch out for Espelette pepper!
Contrary to what one might be tempted to think, chipirons do not necessarily call for white wine, for the sauce and sides most often require another colour. The savoury Basque recipe with the acidity of the tomato and the spiciness of the Espelette pepper reaches out for a juicy, aromatic wine.
I would thus look for an intense rosé strong on colour and taste. A rosé with a pale robe and discreet style would be overwhelmed by the power of this dish. I propose the Irouléguy rosé made by Michel Riouspeyrous at the Arretxea estate. This is a hearty rosé capable of taking on the Espelette pepper. The tomato's acidity melds into the generous Cabernet franc (vinified with direct-press method) and the Tannat (vinified with the saignée method). Great juiciness and good balance define the finished product. Not to mention that the schist and sandstone soils really tighten the wines beautifully.
My other choice would go to a rosé from the Fronton vineyards, the Château Viguerie de Beulaygue made by Cédric Faure from Négrette and Syrah grapes. This rosé has a generous and spicy character that goes beautifully with Basque chipiron dishes.
Fried squid calls for fruity, fresh wines
White wine is a must for fried squid with garlic and parsley. Look for fresh whites that fully express the fruit, for aromatic whites rich in thiols, capable of quenching your thirst and standing up to the texture of fried foods. I have turned to La Virada Jurançon sec from Domaine Camin Larredya. Jean-Marc Grussaute has made this wine with a blend of Gros Manseng, Petit Manseng and Petit Courbu. Fermented in casks, this wine is extremely precise and beautifully aromatic.
My last suggestion is Spanish, a white wine from Galicia. The fruitiness and freshness of the Alvarinho grape are an absolute delight with fried foods. This white, the work of the Domaine Pazo de Señorans in the Val do Salnes sector offers a classic definition of the varietal with notes of green apple and lemon. Delicious and vivacious, it plays its part to the hilt with this dish. Sheer delight!
La Revue du Vin de France Janvier 2022