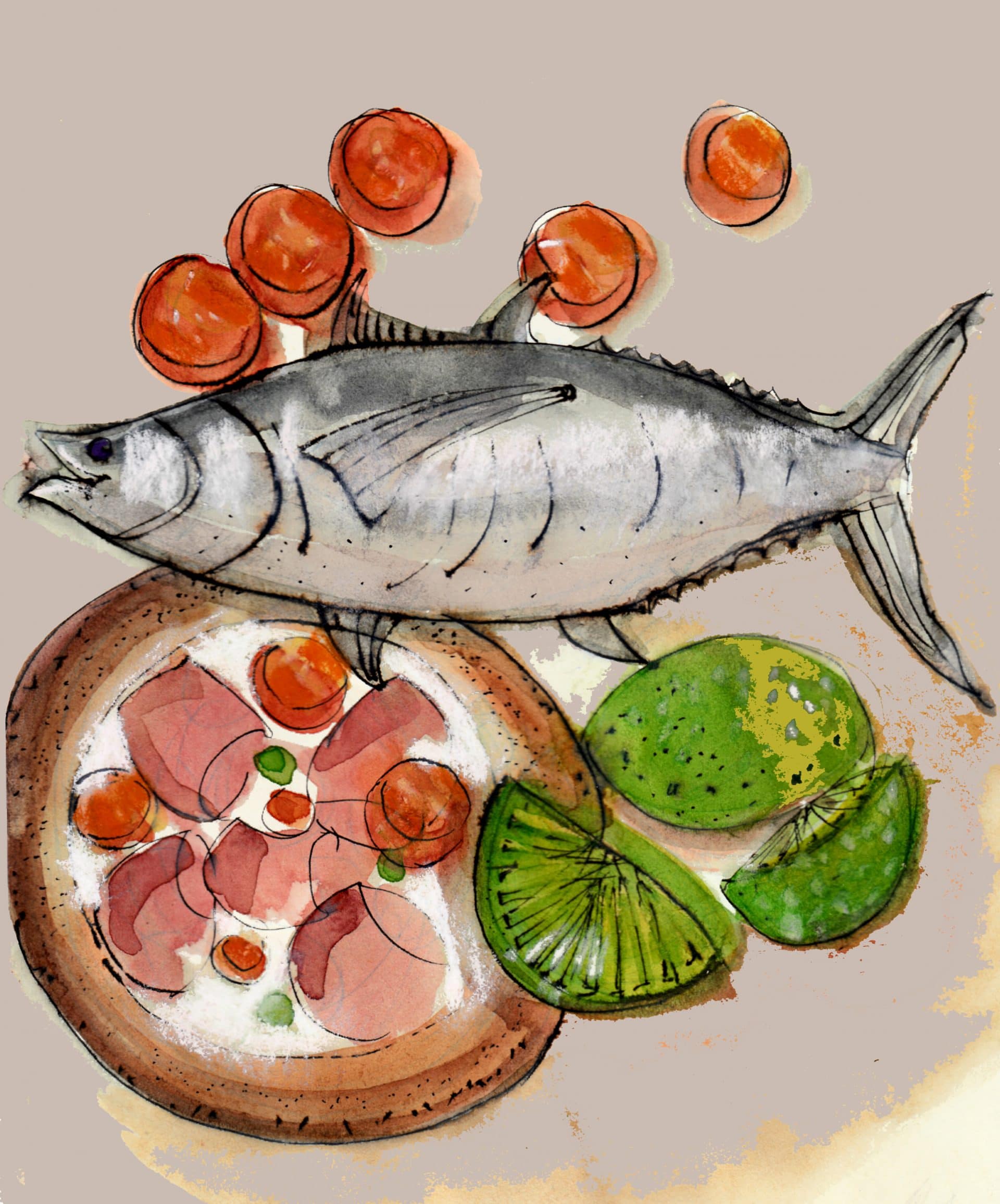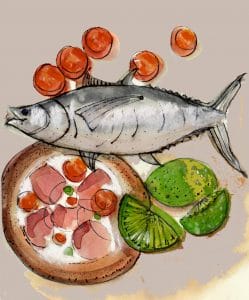 Raw tuna as it is served in Tahiti is an iconic dish with a long history, emblematic of the flavours of French Polynesia. Tuna à la Tahitienne puts forward many different tastes: red tuna with its fleshy supple texture, lime juice which brings length and acidity, coconut milk that coats the tuna and marks the dish with its taste imprint. The vegetables – cucumber, thinly sliced carrot and tiny tomato cubes, bring flavour and crunchiness. This combination is then seasoned and underscored by finely-sliced onion and fresh coriander.
Forget red wine.
Taking all these ingredients and the chilled serving temperature into account, the wine pairing for this raw tuna calls for a finely-honed aromatic white capable of carving through the fleshiness of the tuna to work with the lime and the fresh coriander. Though indeed red tuna is one of the fish that goes well with red wine, Tahitian-style raw tuna spurns red wine and begs for white.
You have several choices to go with this poisson cru, for there are many white wine grape varietals throughout the world that are both aromatic and sharp, with tense mouthfeel, slender and taut with lovely acidity and underlying freshness. Among the many possibilities, here are a few of my favourites.
Opt for white wines from the Loire
And first and foremost, the 2014 Monts Damnés Sancerre from the Gérard Boulay estate. Gérard Boulay is a highly talented winemaker who makes a sharply svelte Sancerre where the Sauvignon subsists down to the millimetre. It steps subtly back to leave room for the Kimmeridgian soil to fully express itself. In Chavignol, where Gérard Boulay works his magic, the 2014 vintage is beautifully balanced with all the energy and complexity I am seeking for this dish.
Southern Australia
Let's take off now for southern Australia, where Rieslings have carved a prestigious reputation at various altitudes to the north and the east of Adelaide. Here, this varietal offers gorgeous expression with citron aromatics that forge a fabulous match with Tahitian-style raw tuna.
Here in Southern Australia, I take you to Clare Valley, north of the famous Barossa Valley, a region where there are significant climatic and geological differences. I very much like the wines made by Jeffrey Grosset. His estate, located in Auburn, is certified organic. He makes different Rieslings and my preference goes to the 2015 Polish Hill which comes from higher altitude vines grown on slate deposits. The wine is crystalline, with floral and lemony nuances. It is straightforward and incisive yet free of austerity.
Onto Japan.
For an even more exotic pairing, but one that maintains excellent relations with the raw tuna, I propose a Japanese wine from the Yamanashi sector, in the middle of the island of Honshu. Made from carefully-chosen parcels of Koshu (a pink grape that is increasingly planted in Japan) grown near the village of Akeno, I recommend the 2016 Cuvée Misawa from Grace Wine.
This elegantly aromatic wine, with notes of white fruit, fennel and lemon, unveils its aromas with great tension on the palate. Dry and incisive, with contained generosity, this Koshu demonstrates fully reveals the terroir dimension.  Kampai!
La Revue du Vin de France June 2018