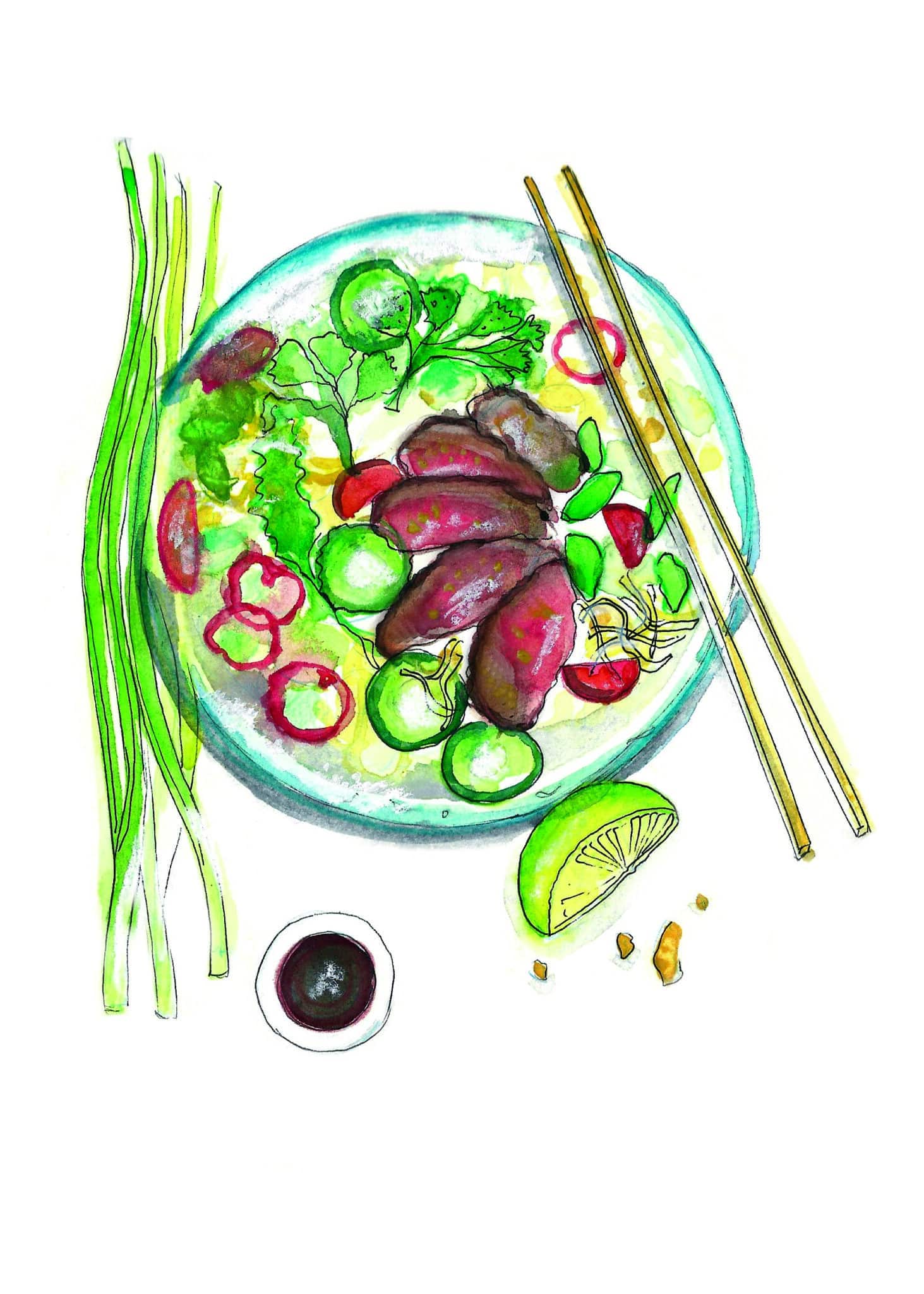 Olivier Poussier, Meilleur sommelier du monde 2000, discusses several pairings for white wines to serve with Thai beef salad.
Thai beef salad is truly an emblematic dish in Asian cuisine. Aromatic, spicy Thai beef salad combines cucumber, bean sprouts, vermicelli rice noodles (angel hair) and beef that has marinated in nuoc-mam, along with lemongrass, mint, coriander and lime. When serving this dish, wine lovers have to be careful with their wine choices in order to avoid falling into some common traps when imagining beautiful wine pairings. The first trap would be to think that the presence of beef calls for a red wine.
It's more complex than that. You need to keep in mind the importance of the other ingredients and the seasoning. Lemongrass, coriander, mint and lime are flavours that are too aggressive for red wines. The nuoc-mam sauce, the bean sprouts, cucumber, peanuts and hot peppers just add to the challenge. Let's be clear from the start. Only a handful of white wines, made from finely aromatic grape varieties, are capable of working with this amazing range of aromatics and of accompanying a Thai salad from start to finish with great brio.
A Condrieu, clearly
Let's start in Austria, with a lovely expression of Grüner Veltliner, the Federspiel Ried Loibenberg cuvée from the Domäne Wachau, year 2021, a late and cold year. Loibenberg is south-facing terroir located east of the Wachau region with soil composed of gneiss, loess and clay. The wine is made in stainless tanks and spends one year on the lees. This white is a great example of the balance we are looking for in a pairing that has power and mineral firmness and also a floral and spicy dimension.
On to France, to Condrieu. Condrieu is a noble northern Rhone Valley appellation that offers unlimited choices for whites that go perfectly with spicy Thai salade. One good example is the lovely 2020 DePoncins cuvée made by François Villard. Of the four Condrieu wines made by this talented winemaker, this cuvée gets my preference. Fermented in barrels, raised on wood then recentered in stainless steel before bottling, this cuvée is the archetype of a beautifully mature Condrieu. It delivers fine bitters on the finish that pair beautifully with Thai salad.
Blown away by Malagousia
Let's head to Greece, near Corinth, in the Peloponnese, to discover a white wine from Ktima Kissa made from the Malagousia grape. Ktima Kissa makes high-altitude wines on the slopes of Black Mountain (Mavrovouni). I do not ordinarily like Malagousia, a grape I tend to find boring, but I was blown away by this estate's total mastery. Their 2022 vintage went into stainless steel tanks to hone highly precise juice, pure and fragrant with fine notes of jasmine, wisteria and lemon which match the flavours in this Thai dish to perfection. Sheer bliss!
Our journey ends in Valladolid in the Castile and León region of Spain. There you must taste the gorgeous expression from old, ungrafted Verdejo vines made by the Barco del Corneta estate. Winemaker Beatriz Herranz has obtained the very best from this variety. She works with natural yeast fermentation in demi-muids for twelve months. Maturation continues in vats for a further ten months before bottling. The result is stupendous. The Verdejo, which is so often heavy, is incredibly pure! Her 2020 Verdejo provides a match with Thai beef salad that is full of character.