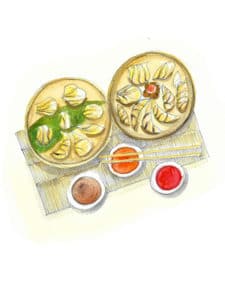 In China, dim sum refers to a wide variety of small dishes, sweet or savoury, which vary depending on the region they hail from. In Europe, we use the term dim sum to mean appetizer-like portions from Canton cuisine, delicious bouchées that can also be served steamed, fried, sautéed or served in a soup.
Among the many tasty morsels, one of the most widely-served is the steamed shrimp dumplings known as ha kao or har gau, made with a wheat starch dough. The shrimp filling is often enhanced with a bit of grated ginger and Thai chives. This type of dumpling deserves a white wine with refreshing acidity.
Shrimp and Champagne blanc de blancs
To respect the taste and texture of steamed dim sum, it is important to look not for excess power and generosity in the wine, but on the contrary, to seek out freshness and the refined side of white wines. Here, I propose a Chablis 1er cru 2019 Montmains made by Jean-Claude Bessin. The oldest vines from which this wine is made were planted in 1968 at the top of the south-east facing slope. Made with native yeasts in tanks (10% in barrels), this crystalline wine has the tension so characteristic of its terroir, which contrasts with the texture yet underscores the tastes of the dim sum.
Another possibility could be the 2016 Blanc de blancs L'Esprit Champagne, from the Pierre Péters firm in Mesnil-sur-Oger. This Champagne comes from four Grands crus villages – Le Mesnil, Avize, Oger and Cramant. 2016 was not an obvious year for great vintages, with frost, pressure from mildew in the springtime and hot temperatures in the summer, all of which impacted yields, yet quality is outstanding. The 2016 L'Esprit is long and lean with refreshing body and a gorgeous finish.
Crab Shumai and German Riesling
Shumai steamed dumplings are another excellent dim sum, slightly yellow in colour made with gyoza wrappers and steamed. Here, the wine pairing varies depending on the filling. Crab shumai calls for a white wine, and I suggest a German Riesling from the Rheinhessen wine region, in the southern part of the Wonnegau. In the village of Westhofen, Philipp Wittmann makes an entire range of superb wines. With dim sum I go with the Gutswein level (entry-level wines) where I love the 2020 with its well-controlled alcohol power and fabulous sapidity on the finish. It's razzamatazz!
Pork Siu Mai and Rosé Wine
If you choose siu mai made with pork, lightly seasoned with spicy sauce which contributes power, I advise you look to rosé wine. One great rosé, far from the modern, techno palette, is the 2019 Bandol rosé from Château Sainte Anne, a cuvée where Mourvèdre, Grenache, Cinsault, in equal parts, forge a splendid osmosis. This wine is defined by its notes of pepper and fine spices that pair beautifully with the power of the dim sum with its spicy peppery side.
In a word, do not hesitate to vary wine colours depending on the power of the tastes in the dim sum.
La Revue du Vin de France July 2021