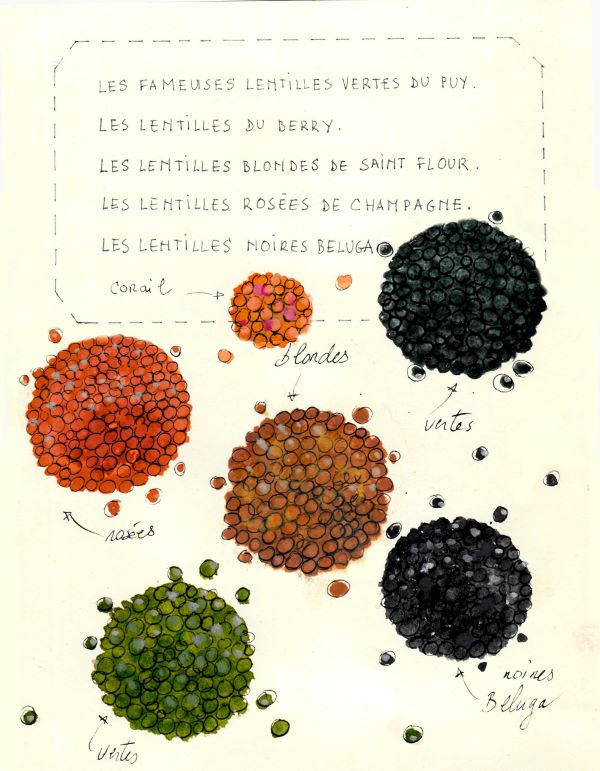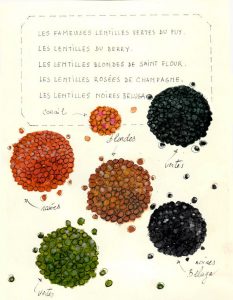 Edible lentils are a member of the Fabaceae family, also known as pulses. Canada is the biggest producer of pulses in the world. Lentils are highly popular for their many beneficial properties. Fibre-rich and iron-rich, lentils also help reduce cholesterol.  There are many different varieties and different colours. Some lentils have official recognition of origin, such as in France, the famous green lentils from Le Puy (lentilles vertes du Puy) which have had their own AOP since 2008. Green lentils from the Berry area of France have the 'label rouge' ranking and have had Protected Geographical Indication since 1998. In France, blonde lentils from Saint Flour (Cantal) and pink lentils from Champagne (or Champagne lentils) are also widely known. Asian countries are particularly fond of yellow-orange lentils.
In French cuisine, lentils are generally associated with comfort food such as lentils with sausages or salt pork. Lentils can also be enjoyed cold, in salads. During this chilly month of February, I have chosen to discuss wine pairings with a velouté of lentils with black truffle. The lentils are fully cooked and sieved through a food strainer which retains their slightly mealy texture. This delicious winter soup, finely creamed and served warm should be served with wine at room temperature to reduce the temperature difference.
With this dish, wine has to be strong on taste
This recipe uses a piece of smoked ham which diffuses its flavours and aromas into the lentils. The grated black truffle underscores all of these flavours. To go with this dish, the wine has to be strong on taste and character, especially if, at the last minute, you are inspired to add a bit of sautéed foie gras to the lentils.
To go with this dish, I tend to favour the 1988 Barbeito Frasqueira Sercial. This type of varietal Madeira, aged in the traditional canteiro aging process, stays a minimum of twenty years in the barrel. This vintage went into demijohns in 2009 for further ageing prior to being bottled. When served at 16°C, it develops all the complexity that comes from this gentle, long aging on wood. The tenderness on the attack works beautifully with the foie gras and the superb acidity on the finish cuts through the fatty dimension.
A lovely Syrah or,
If you serve this velouté of lentils with black truffle on its own, I advise a red wine that has reached maturity. A lovely expression of northern Syrah which has aged and developed its aromas, with autumn notes, and notes of smoked bacon. In a word, the 1991 vintage of Côte-Rôtie Côte Brune made by Jean-Paul Jamet. This wine, truly from the Côte Brune location, is superb.
A Cornas.
You could also go with a 1998 Cornas from the Auguste Clape estate. This Cornas has a palette defined by notes of spice, black olive, truffle, which totally flows in the direction of the velouté.  The palate has taken on patina; and the reminiscence from the whole unstemmed harvest is imperceptible. And, looking outside of France, I would go with a lovely 2005 Swiss Syrah from the Denis Mercier estate, in Sierre, which gives up smoky notes and mocha aromas. High time to move to the table!
La Revue du Vin de France, February 2019