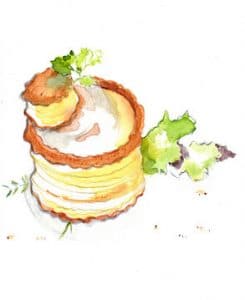 The famous bouchée à la reine goes back to the era of King Louis XV and his Queen, Marie Leczynska (1703-1768) who adored puff pastry and poultry. The recipe was revisited by Antonin Carême (1784-1833), 'the king of chefs and the chef of kings', who used the very lightest of puff pastry and rechristened it 'vol-au-vent'.
Bouchée à la reine or Vol-au-vent…
Since that time, variations on the theme of the vol-au-vent have continually evolved. Veal sweetbreads have given way to white poultry meat, to quenelles, to crayfish and to other types of shellfish. However, regardless of what you put in the vol-au-vent, the first thing you have to think about when looking for the right wine pairing, is the puff pastry, with its buttery side. Quite clearly, from the start, white wines are predestined for this pairing.
… in infinite variations
With a vol-au-vent stuffed with crayfish in Nantua sauce, you have to look for the perfect balance between power and firmness. Here, I recommend a lovely expression of the Savoyard Roussanne grape, such as the 2017 Chignin-Bergeron: Les Friponnes from Christine and Gilles Berlioz at the Domaine Partagé. With its notes of yellow fruit, its floral touch, its generous body and lively structure, this wine pairs marvellously. A second suggestions takes us to the other side of the Alps, on the Fully terroir in the Valais, to relish the amazing 2017 cuvée La Petite Arvine Quintessence from Benoît Dorsaz. The wine was made on wood and has retained the grape's characteristic typicity and salinity. It is absolutely awesome with this recipe.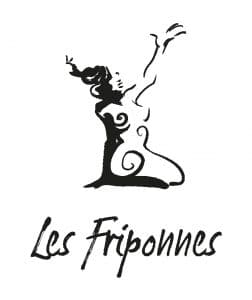 … and the pairings are equally infinite.
With a classic vol-au-vent, a few surprise ingredients can add a lot of personality and taste. Here you should opt for wines with nice broad shoulders. Yet you must be careful – along with the quest for volume and power you must not overlook the fundamental aspects of freshness. The choice is vast: Burgundy, northern Rhône valley, Alsace or the Jura. A good Rhône Marsanne or a super Pinot Gris both go beautifully with a traditional vol-au-vent.
And yet, with the vol au vent, my favourite pairing goes to two different Chardonnays.
The first pairing features a Jura wine. Winemaker Jean-François Ganevat plies his trade in La Combe de Rotalier and proposes a divine Côtes du Jura, his 2015 Les Chalasses vieilles vignes. Flawlessly mature, this wine goes with the generous nature of the vol-au-vent to perfection.
The second match comes from Burgundy. Here, I recommend the 2009 Puligny-Montrachet 1er cru Les Combettes, from Domaine Etienne Sauzet. This white wine has density, substance and also lean, forward structure that offsets the richness of this dish. Corkscrews on the ready!
La Revue des vins de France February 2020