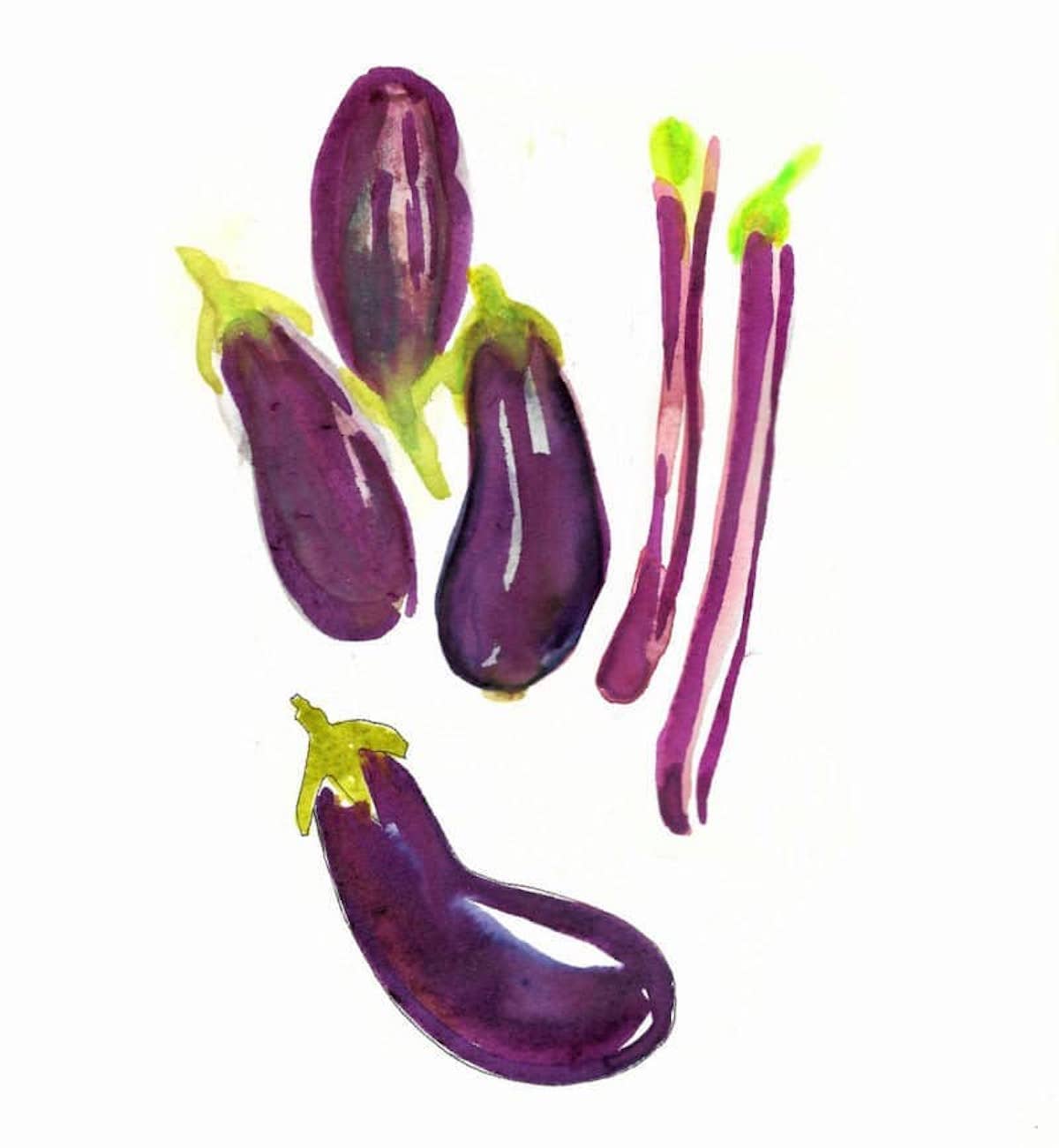 Eggplant is a low-calorie vegetable, rich in vitamins and fiber.
Grown in the Near East and Asia since time immemorial, eggplant (also called aubergine) arrived in Europe during the Middle Ages. Eggplant has many different varieties, shapes and colors and is found on market stalls from June to September. In France, eggplant is primarily grown around the Mediterranean and in Aquitaine.
It is an essential element of sunny southern cuisine and goes perfectly with tomatoes, zucchini, garlic, black olives and herbs from the maquis, but not only!
In Japan
In Japan, for example, eggplant with miso and soy sauce is a classic. With this recipe in which the eggplant is long-simmered then prepared with a sweet-and-sour sauce where miso paste is mixed with soy, the pairing is made with oxidative wines to find the persistency to go with this dish
Here, I recommend a sake from the Hyogo prefecture, made by the Kenbishi brewery. This sake, called Zuishou, is a koshu sake, an old sake. Japanese legislation requires a minimum of three years of aging to be called a koshu sake. The Zuishou cuvee, made from sake that is between five and fifteen years old, has a beautiful robe that is light topaz in color and aromas of honey, toasted sesame and roasted notes that go beautifully with the soy and caramelized miso. The umami savoriness brings sweet and bitter notes that stand up to the candied dimension from the eggplant…
Coming back to Europe, I recommend a highly successful pairing with a 10-year-old Sercial Madeira from Blandy's. This wine, a blend that has been naturally aged in Canteiro, has only 48 g residual, but the acidity level is such that the sweetness is barely perceptible. An ideal match with Japanese-style eggplant.
And in Europe?
In Europe, and more specifically along the Mediterranean basin, countless recipes feature stuffed eggplant made with vegetables or meat. In Greece, Italy and southern France, where recipes include ingredients such as tomato, onion, garlic and basil, turning to southern wines is a judicial choice.
I recommend a wine from Provence: the juicy 2016 Bandol red from the Domaine de Terrebrune. With this vintage, the wine made by Reynald Delille boasts lovely congeniality from the very start and is exemplary of the Mourvedre grape which makes up 85% of the blend. Highly characteristic aromas and taste with notes of maquis herbs and spices. The beautifully-managed structure on the palate provides the relief required to stand up to the unctuosity of slowly-cooked eggplant.
Outside of France, I suggest the 2019 Rosso di Montalcino from Tenuta Buon Tempo estate, in Tuscany, located in the southern part of the appellation in the village of Castelnuovo dell'Abate. This rosso, aged just one year in barrels made from Slavonian (Croatia) oak, will go beautifully with our eggplant dishes. Time to sit down to a good meal!
La Revue du Vin de France juin 2021
Read more : What else to eat with saké ?