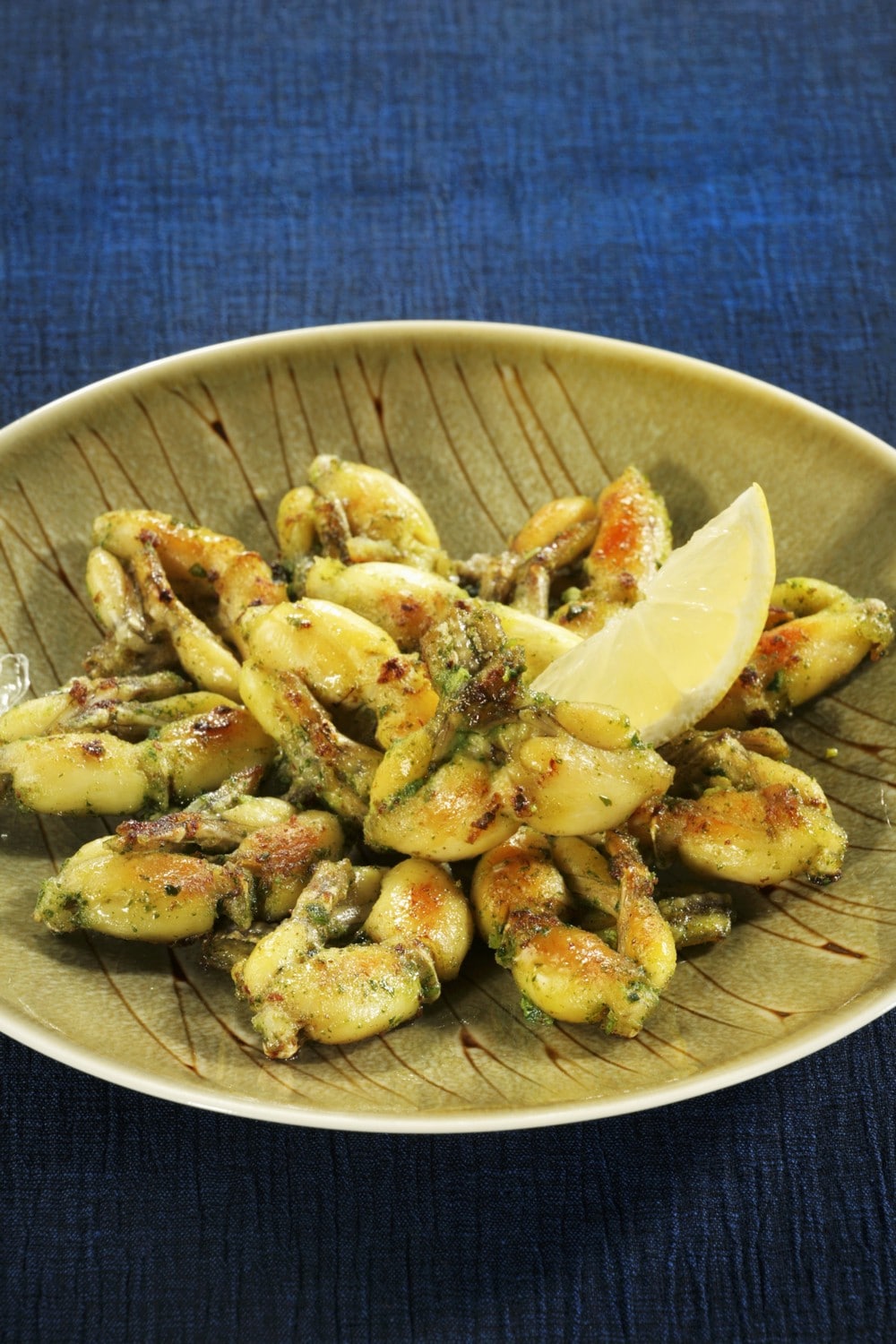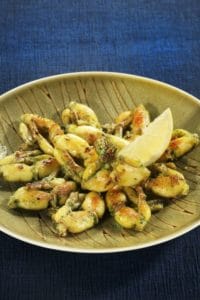 Notwithstanding what our British friends may think, the French are not the only people to enjoy dining on frog legs. In Indonesia, Egypt, Vietnam and Turkey, local populations like and eat frog legs every bit as much as we do. In France, the most popular recipes continue to be Frog Legs à la Provençale and Frog Legs Dombes-style. The frog legs are coated with flour and sautéed in piping hot butter. With this type of culinary preparation, it seems clear that white wines go much better than red wines. This is true but be careful! The whites must be lively and edgy, with good acidity that balances the fattiness that comes from the butter.
Whatever region you turn to for white wines, 
This trail leads us to Chablis. The mineral character of the northern Chardonnay and its sharp mouthfeel pair beautifully with frog legs. Here I suggest a 2015 Montmains 1er cru Chablis from the Domaine Jean-Claude Bessin. The 2015 is a solar vintage which has brought some width to the attack on the palette. Very quickly after that, the Montmains terroir comes across and imprints the wine's purity and straightforwardness that keep it from toppling into pure sunny generosity.
be sure to emphasize freshness and vivacity.
We remain in Burgundy and turn to the Aligoté varietal which also contains all the tension needed to stand up to this buttery dish yet bow to the white flesh of the frog legs. Here, try the 2014 Bourgogne Aligoté made by Domaine Roulot. Sheer pleasure. This famous winemaker from Meursault has made a gleaming, finely-honed Aligoté.
Frog legs prepared in the Dombes style points us toward an incisive white wine from the Mâcon area, such as the 2014 Les Coères Montagny 1er cru made by Stéphane Aladame. Or the Bugey area, with the lovely, lively 2015 Vignes centenaires aligoté, from Domaine Les Vignes de Paradis in Ballaison, near Thonon-les-Bains. Dominique Lucas has brought out the quintessence of the aligoté grape and made a profound, mineral wine that breathes plenitude. With a dish of frog legs à la Provençale, the garlic, parsley and tomatoes suggest a Mediterranean white. Look around and choose a white that is mouth-watering tingling on the palate, with good sharpness. Clairette wines, with their crystalline purity, are one example. Clairette, though not an aromatic grape, perfectly expresses the minerality of its terroir especially after two or three years' time.  Here, I suggest you taste the 2016 Petit Salé cuvée from Château de Roquefort. Raymond de Villeneuve has made this pure Clairette with great brio. Born of vines planted in the 1950's and grown at 380 metres altitude on a north-facing hillside, this white wine brings freshness and verve that are invitingly seductive. I also recommend the 2015 cuvée "Le Poste" from Château Saint Cosme, in the Côtes-du-Rhône, made from old mass selections of Clairette. The chalky Jurassic terroir endows this wine with its underlying tight, saline structure.
La Revue du Vin de France n°619