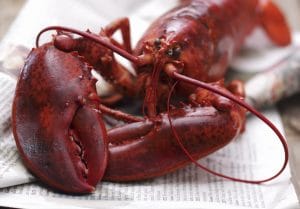 Unlike what is commonly believed, pairing red wine with lobster is possible. Such a pairing depends on how the lobster is prepared, on the sauce, and on the side dishes. Red wines that go best with lobster are young reds with primary fruitiness, free of impacts from oak and ageing. Wines that are juicy, not heavily extracted, with that mouth-watering sensation. The important thing in the choice of the red wine is not to dominate the delicate flesh of the lobster. This means two important aspects – the freshness of the fruit and infused texture. Some of the great French chefs prepare lobster with ingredients that are more conducive to red wine than to white.
Pascal Barbot, chef at Astrance, in Paris
Pascal Barbot, , works with strawberry and spring onion in his approach to lobster. Strawberry, actually an excellent bridge between red wine and the iodine subtlety of lobster flesh, works beautifully with a toothsome wine that is light on alcohol and overflowing with fruit. What comes to my mind is the lovely 2014 Regnié 2014 from the Domaine Julien Sunier in Avenas, a gorgeous Gamay shimmering with fruit and velvety on the palate. This wine's grapes come from the En Oeillat parcel, bordering Morgon.
The superb acidity of 2014 Beaujolais wines marries well with the iodine delicacy of lobster. A good example is the 2014 Beaujolais-Villages Les Vignes de Jeannot made by Nicolas Chemarin, a wine made from old vines. The fruit is very forthcoming; the notes of peony and morello cherry are reminiscent of a Burgundy. The texture on the palate leaves nothing to be desired and creates a most delicate pairing with lobster.
Jean-François Piège chef at Le Grand Restaurant in Paris
Jean-François Piège concocts a lobster dish that also features black currant and Pondicherry pepper, where a Burgundy wine is the best option. Go for a young wine with intense fruit, where the Pinot Noir oscillates between black currant and morello cherry. I go straight for Denis Mortet's Cuvée Noble Souche, a simple red Burgundy made from Pinot Noir growing at an altitude of 400 metres. His red retains great fresh fruit, superb mouth-feel and a thirst-quenching quality.
With lobster you can also turn to red Coteau-Champenois. In Courmas, near Ecueil, Yann Alexandre makes a grand 2014 Terre de Clos 2014, a lip-smacking Pinot Noir whose freshness is very appealing. This wine is mellow and subtle and has supple, harmonious texture. A serving temperature of 15 to 16 degrees C really brings out the fruit.
Frederic Anton, chef at Le Pré Catelan
At the Pré Catelan in Paris, Frédéric Anton has perfected the great classic of homard à l'américaine. The sauce, which includes Cayenne pepper and tarragon, is flavourful with no excess spice. To go with it, I recommend the delicious 2013 red Burgundy from Domaine Robert Groffier. It is nice to see such body in a generic appellation! You could also go with the Saumur Champigny 2015 Clos de la Bienboire from the Château de Villeneuve, which comes from a 1.5-hectare clos. A beautifully ripe wine, with good freshness from the graphic facet of the Cabernet franc that enhances the ripeness of the harvest. Fruity and easy to drink, it is simply perfect with lobster à l'américaine. Into the dining room we go!
La Revue du vin de France, sept 2016