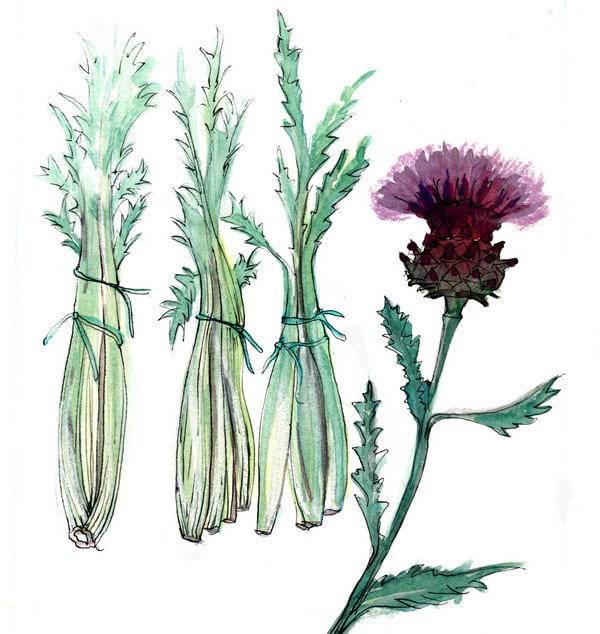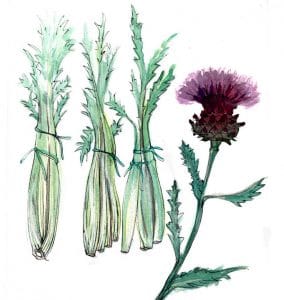 Cardoon is truly an ancient vegetable that hails from the Mediterranean area. It is a perennial that grows to be quite voluminous. Cardoon is grown for its delicious edible stalks and can be found in Savoie, in Switzerland, and also in Spain and in Morocco. Some species of cardoon are thorny and can hurt your hands when peeling and preparing. Spiny cardoon from Geneva has its very own AOP protection. Green cardoon from Vaulx-en-Velin is also quite sought after. Cardoon is a winter vegetable and is rich in fibres. It is related to the artichoke and has a similar taste, it is fine, fleshy and almost bitter. It is low in calories yet high in trace elements, minerals and potassium.
Beef marrow and truffles from Alba…
Cardoon is deeply attached to tradition and is an established feature of cuisine and culture from Lyon. One of the most famous recipes, perpetuated by Monsieur Paul Bocuse in his restaurant, is cardoon prepared with beef marrow. The marrow of course adds savoury fattiness, a gorgeous complement to the cardoon but one which deserves a pairing with a sharp-edged white that can stand up to the fat. Here, I propose a white wine from Beaujolais. The Beaujolais region has 200 hectares of Chardonnay vines used to make wines from the Beaujolais blanc and Beaujolais-Villages blanc appellations. Let's try a wine made in the village of Theizé: the 2016 Clos de Rochebonne. The Geoffray family manages the estate and makes the wines at the Château Thivin. The terroir faces east, the soil is clayey and chalky, and the wine expresses all the freshness and engaging flavor of the Chardonnay.
…a heritage vegetable which loves tradition.
Another three-star restaurant which loves to serve cardoon has its own very special recipe. In Mégève, at Flocons de Sel, chef Emmanuel Renaut delights diners with a preparation of spiny cardoon from Plainpalais risotto-style, with leaves of the mustard plant and white truffle from Alba. Truffles demand white wine whose aromatics and taste evolve. Here we defined a splendid pairing with 2013 Roussette de Savoie made by the unrivalled Michel Grisard. The patina of time has developed the expression of this princely varietal and endowed it with outstanding complexity.
However, more generally speaking, in the Lyon area and throughout the Beaujolais, cardoons are prepared with a Béchamel sauce and then are gratinéed in the oven. For this version, I suggest you serve the lovely 2016 Mâcon-Pierreclos Le Chavigne from Jean-Marie Guffens, at Domaine Guffens-Heynen. This vintage displays – as always – remarkable maturity and rich depth, yet still has good tension and acidity.
In Morocco, cardoons are used to prepare tagine of veal, with confit of lemon, curcuma and ginger. Here you should opt for a Mediterranean white. I suggest a white wine grown on soils in the areas known as Montpertuis and Pierredon in the Châteauneuf-du-Pape appellation, the sublime 2016 white Châteauneuf La Crau de ma Mère, from the Mayard vineyards. This white wine has great stature on the palate and has no limpness or nonchalance whatsoever. Clairette, Picpoul and Bourboulenc confer remarkable energy on this great white made from a blend of five varietals in all.
Your cardoons will be a brilliant success with white wines from Savoie, Beaujolais or the Mediterranean!
La Revue du Vin de France, March 2019.