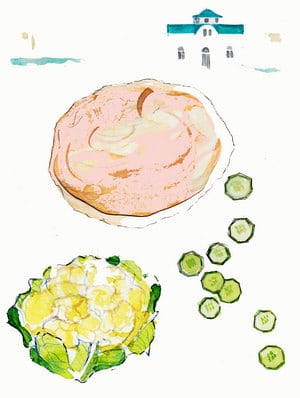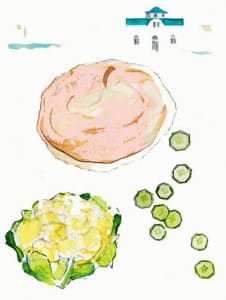 Tarama originated in Greece, the name comes from the Greek word taramas which means salty fish roe. Tarama is made from cod roe that is salted, dried and smoked. Finding a good tarama is not that easy. Inexpensive tarama that is most often bright pink in colour, too oily and contains too few smoked fish eggs unfortunately abounds on the shelves. This type of product is nowhere near a true tarama that is light in colour, redolent of smoked roe, with a subtle, refined, creamy and persistent texture and taste.
A single bit of toasted bread or a blini spread with top-quality tarama suffices to understand its taste and texture. And the pairing is based on two essential features. The wine has to contrast with the fatty texture of the tarama, which means you should look for wines with good acidity and clean structure. Sparkling white wines are interesting, for the carbonic aspect creates excellent contrast. The second feature is a wine capable of standing up to the smokiness and saltiness of the tarama.
With tarama, several choices
I recommend the 2012 Terre des Vertus Premier Cru Blanc de Blancs Champagne from Larmandier-Bernier. In this excellent year, this parcel of Chardonnay reveals a rich, finely wrought wine. The whole point of 'zero dosage' comes across clearly with this pairing.
When turning to white wines, you have to look for salinity and tension
Such as this sumptuous Greek wine from the Santorini appellation, the 2016 Pyritis from the Artemis Karamolegos estate. This crystalline wine is a blend of three different plots of old Assyrtiko vines located high up in the Pyrgos and Megalochori sectors. From France, you can trust the 2016 Domaine de la Pépière Muscadet Sèvre et Maine sur Lie vieilles vignes Clos des Briords. This wine just breathes salty sea air and the purity of whole fruit. Harmonious and persistent, the mineral imprint is clear and present.
As is precision
When tarama is served on a slice of cucumber, or coated on cauliflower florets, the raw vegetables contribute sensations that are both crunchy and vegetal. With cucumber, I suggest a 2016 Vinho verde from the Amarante area in northern Portugal, produced by the Sem Igual estate. After two years in the bottle, the precision is still amazing! As for cauliflower, I suggest pairing it with a finely aromatic white that is racy and thirst-quenching. One example is the 2017 Touraine (Guillaume Sorbe) from the estate Les Poëtes. Plain-spoken yet razzle-dazzle, this Sauvignon is an excellent pairing.
Here's to a great return from summer holidays!
La Revue du Vin de France, September 2019
Other Greek wines pairing ? Find in my blog.