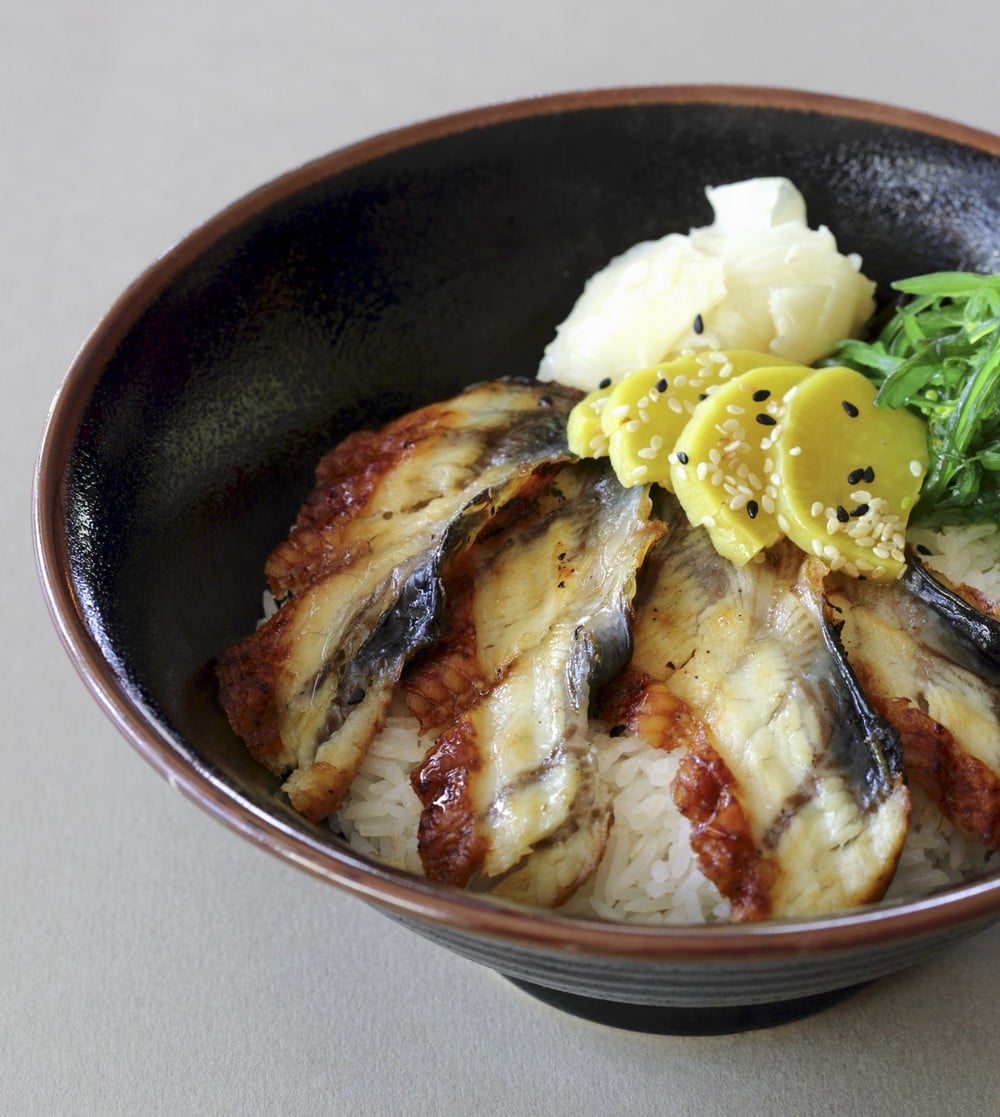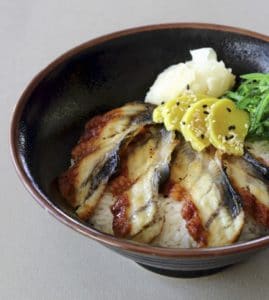 A fatty fish that is extremely interesting with wine, the eel has inspired Olivier Poussier, meilleur sommelier du monde, who has defined several luscious pairings. Though eels resemble snakes, they are true fish and have complex habits. Eels develop in freshwater but reproduce in the high seas. They are an oily fish with excellent nutritional value, rich in Omega-3 and mono-unsaturated fatty acids. They are caloric, especially if they are smoked. In gastronomy, eels feature in many different ways. Eel is extremely popular in Japan, and the fish has its very own feast day in summer. The eel day is a moveable feast and symbolises mid-summer.
Grilled filets coated with mirin
Eel sashimi does not exist in Japan, for eel blood is toxic. In Japan, Unagi (the Japanese word for freshwater eel) is prepared in filets which are grilled and coated with mirin (a sweet rice wine) and soy sauce.The filets are seared and lacquered before being served on rice. A certain sweetness fills the mouth, and the seared flesh produces notes of chocolate… Filet of eel begs for wine with great patina and a touch of finely-controlled oxidation that will seek out and work well with the mirin. Yet the wine must also have the required dryness to offset the oiliness of the eel.
My first choice steers me in the direction of a Jerez Oloroso Antique from the Spanish estate Rey Fernando de Castilla. This dry Oloroso, with only 5 grams residual, has all the patina of wine that has spent twenty years in solera. The Oloroso's complex palette, with notes of caramel, toasted dried fruit and fine wood, marries beautifully with the mirin sauce. Its texture stands up to the fatty flesh – precisely what we are looking for!
My second choice is a Portuguese wine, a 10-year old Sercial Dry Madeira from Barbeito. Ricardo Freitas thrills us with the purity and balance in this Sercial which has spent fourteen years in casks. It has a finely suave attack that is well-balanced by the natural acidity.
The wine pairing has to play on the contrast
With a salad of lamb's lettuce and smoked eel – a superb French specialty – the wood smoke flavour dominates, but the eel remains fleshy and fatty and the wine pairing has to play on the contrast. The plant flavours and the salad seasoning must also be taken into account. An incisive, edgy wine is called for. Such as the 2014 Clos des Briords Muscadet Sèvre-et-Maine on the lees, from the Domaine de la Pépière.This long-legged, sharp wine comes from grapevines over 60 years old that hug granite. Its finely chiselled texture and splendid bitters are perfect with the smoked eel.
If the eel is prepared in a matelote with red wine, pearl onions and slivered pancetta, then you need a young wine that refreshes this concentrated, simmered sauce. Yet the wine also has to be tannic to contrast with the texture of the eel. Here a good example is the 2015 Côte de la Houssaye Anjou-villages from the Domaine Vincent Ogereau. This vintage, still on its primary aromas, has the distinction of being made from 100% Cabernet-Sauvignon. This is a dense, tight wine with beautifully ripe tannins due to the solar year. The schist soil endows it with great freshness and tension.
Eel season is at its peak in May – enjoy!
La Revue du vin de France n°620