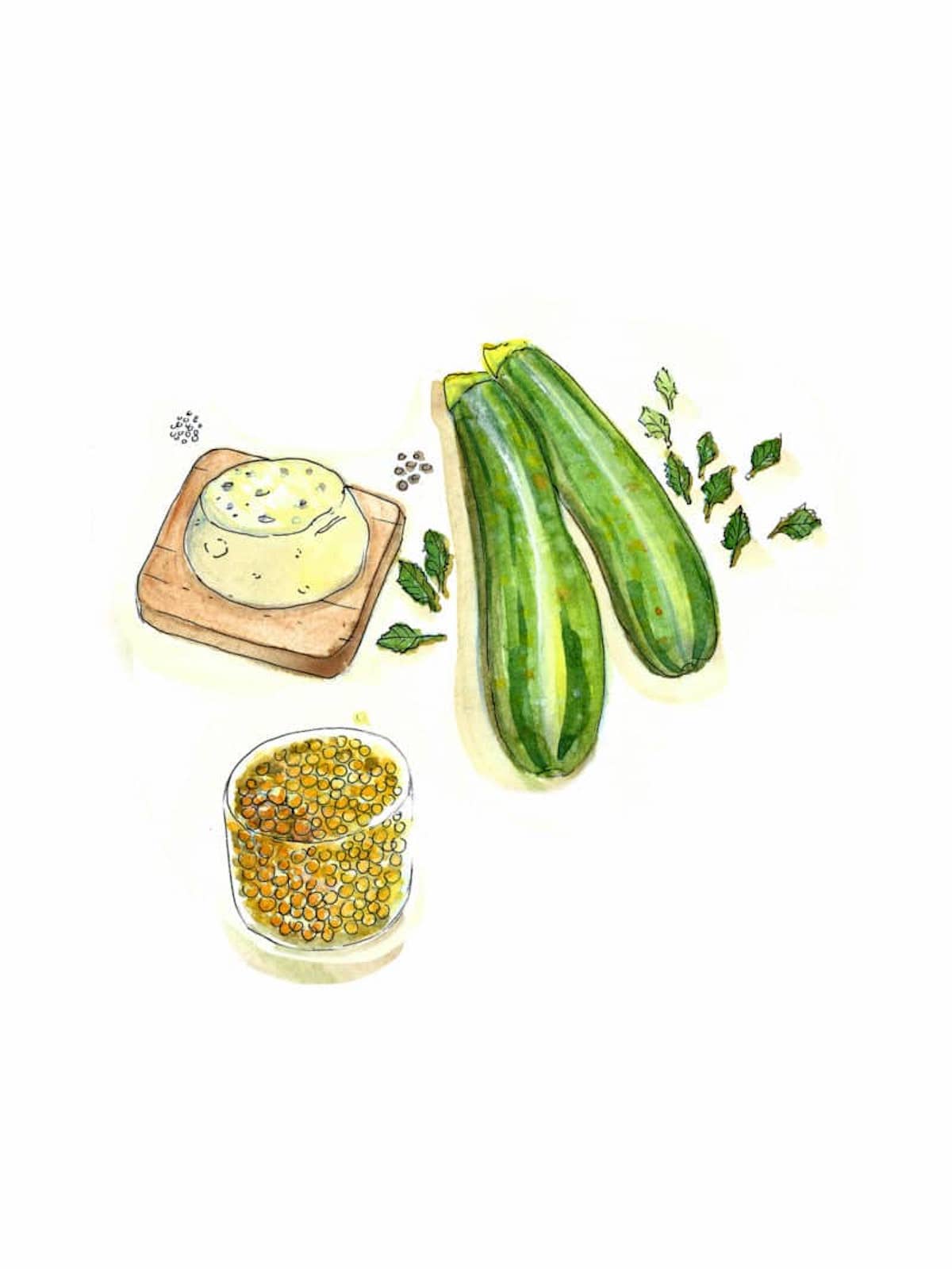 Used since time immemorial in Near Eastern cuisine, chickpeas are a member of the legume family, as are lentils and beans. Chickpeas are an indispensable ingredient in North African recipes, and in many Mediterranean dishes. They are an increasingly frequent guest at the table due to their nutritional goodness.
Rich in plant proteins (between 17 and 23%), starch, iron, phosphorous, vitamins and minerals (magnesium, manganese), low in fats and cholesterol-free, chickpeas are one of the most interesting legumes and provide a fabulous alternative to meat. There are countless recipes featuring chickpeas, whether as a side or as the main dish. And well-prepared, chickpeas are a show-stopper.
Why not a Greek Malagousia?
To go with a summery recipe of chilled velouté of chickpeas and courgettes, goat cheese and fresh mint, I recommend a thirst-quenching, aromatic wine. The touch of chlorophyll and the savoury goat milk point to a fruity, spicy white wine. Why not opt for a Greek white from the Thessaloniki region of Greece. Thanks to Vangelis Gerovassiliou, the famous Ktima Gerovassiliou cellar saved a grape that seemed destined to disappear, Malagousia, and has brought it to perfection in the 2020 vintage year.
And I am not fanatical about varietals that impose a certain exuberance, but here, that energy is well-tamed. The wine brings its fruitiness and its spice but is beautifully harmonious on the palate and has lovely sapid weft.
Now Greece may be beautiful, but let's also return to France!
Headed in the direction of the northern Rhône valley, where I would like to suggest a lovely expression of the Viognier grape, with the 2019 Pied de Samson from the estate Domaine Vernay. This wine, made by Christian Vernay, is made with Viognier planted at over 300 metres altitude. His wine is extremely elegant and has great freshness.
A fresh, winy rosé from the Languedoc
Let's look at a chickpea curry where the garam masala blend of toasted, ground spices is used alongside cumin, fresh coriander, curcuma and tomato pulp. Here, you need to look to wines with a lot of character. Oxidative white wines work very well, as do aromatic white wines. Rosé wines with a lot of personality are also winners, for they display powerful taste and the cool serving temperature that pacifies the heat of the spices on the palate. One example is the 2019 Coteau du Languedoc rosé from Mas Jullien. With every vintage Olivier Jullien unveils a winy rosé made by the saignée method, with Grenache and Cinsault grapes. The 2019 vintage displays that freshness that we are entitled to expect from this Larzac terroir.
For the oxidative option, I would suggest you try a 2019 Jerez Fino En Rama made by Emilio Lustau. The "En Rama" wording indicates that this fino is straight from the barrel but has not undergone the final fortification at bottling time. Be careful, this wine needs to be served between 10 and 12°C, a word to the wise is sufficient…
La revue du Vin de France April 2021