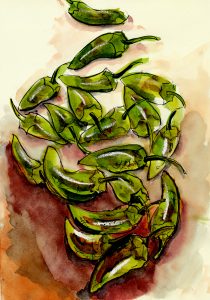 For aficionados of bar-hopping, the Padron is among the great treats to be had in bar food. This delicious, fairly mild pepper which comes from the city of Padrón, in Galicia (north-western Spain) has flavours that are similar to bell peppers, with its green taste and the later notes of bitterness. As a result, it goes rather better with white wines. One of the best ways to enjoy Padrón peppers is to sauté them in a little oil with whole cloves of garlic, and sprinkle with a pinch of fleur de sel.
White Ribeira wine, white Rias Baixas wines…
The geographical origin of the Padrón pepper inspired me to look for pairings with wines from the same region. And indeed it's a marriage made in heaven. I suggest that you discover a wine from the Ribeiro denominacion de origen (DO – the equivalent of the French AOC) in Galicia – the 2016 Eidos Ermos, made by Luis Anxo Rodriguez Vazquez. This white wine, made with Albariño, Treixadura, Lado and Torrontés grapes expresses great freshness and moderate alcohol degree. Its notes of white fruit and affable structure sweep you off your feet. A lovely, easy-going wine with nice acidity that is truly thirst-quenching.
An alternative could be a wine, every bit as crystalline, made with the Albariño grapes grown on sandy, granite terroir above the Val do Salnés sector, in the Rias Baixas DO. Alberto Nanclares and Sylvie Prieto have a small vineyard covering 5 hectares. There, they deliver different versions of the Albariño varietal, each with a strong streak of its terroir. Among their wines, you have the Paraje Mina cuvée. Half the grapes ferment in demi-muids (600-liter oak barrels) and the other half in 500-litre stainless steel tanks. After nine months ageing, this wine expresses fruity, vegetal nuances. It is long, lean and saline on the palate.
…a Jerez and why not a rosé wine…
Among other possible pairings with the Padrón pepper, a young fino type of sherry, endowed with good acidity, is also a great partner. Whether a fino or a manzanilla, the Sherry must have a fresh and delicate character and mouthfeel that is not too dominated by the veil. The Sherry has to convey the veil of course, but also deliver good freshness and salinity on the palate. The influence of the veil, after three years of ageing, provides good authenticity to this manzanilla Classic from the Rey Fernando de Castilla bodegas, which preserves the dynamics of young expression of the Palomino grape.
Spain gives us a wide range of pairings with Padrón peppers
And last but not least, for those of you who prefer to go with a rosé wine, here you have a superb cuvée from Catalonia, from the Montsant appellation: the 2016 Solucio Rosa. René Barbier junior and his spouse Sara Perez produce this amazing wine for Venus La Universal. Solucio Rosa is a rosé made from white and red wine grapes, pressed at the same time and raised fourteen months on old wood and in carboys. Made from three colours of Grenache, blended with Macabeo, Syrah and Carignan, Solucio Rosa has fruity, spicy notes and stone fruit that also brings out a mineral underpinning. It is far from any standard, it is clear and precise, and original. ¡Salud!
La Revue du Vin de France, November 2018